The Byrds had been asked to play but they did perform at another festival several weeks before where then were riots.
As bassist John York remembers: "We were flying to a gig and Roger McGuinn came up to us and said that a guy was putting on a festival in upstate New York. But at that point, they weren't paying all of the bands. He asked us if we wanted to do it and we said, 'No'. We had no idea what it was going to be. We were burned out and tired of the festival scene. So all of us said, 'No, we want a rest' and missed the best festival of all".
(taken from "Byrds Flyght")

The Flying Burrito Bros had been asked but they were on a concert tour by train instead.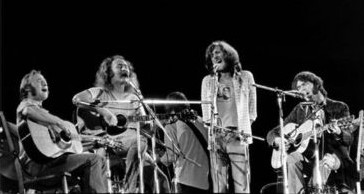 Stills, Crosby, Nash, Young

David Crosby: "I remember the people that we really cared about musically. Almost all of them, The Band, The Dead, the Airplane, Hendrix, were standing around behind us. Now they had heard this first album, but then nobody had heard us live. That was only our second gig live.
And they all were standing around the stage behind us ...oh, can they do it?..."

Neil Young: "One of things I remember about Woodstock was trying to get there to play. As it turns out, the charter plane I was on with Jimi Hendrix flew into the wrong airport. We were supposed to be picked by a helicopter. The roads were jammed and there was nobody at the airport, so we had no way to get to the concert.
So we're standing at the airport with Melvin Belli [an attorney] trying to figure out what to do. And Melvin Belli steals this pickup truck parked at the airport.
So it's the three of us in this stolen pickup truck trying to get to the Woodstock concert to play - Jimi, Melvin & me.
That's what I really remember about Woodstock."
(From a radio interview "On The Record" by Mary Turner 1979)